PRESS RELEASE
An exhibition that looked at the life of Mary Seacole, pioneering nurse and heroine of the Crimean War, opened in Leicester on October 2nd 2010.
Born Mary Jane Grant, Seacole was born in Kingston, Jamaica in 1805, the daughter of a Scottish soldier, her mother a Jamaican creole. Although technically 'free', being of mixed race, Mary and her family had few civil rights – they could not vote, hold public office or enter the professions.
Mary married Edwin Seacole in 1836 but, sadly, he died in 1844, the marriage lasting only 8 years.
A keen traveller, Seacole visited other parts of the Caribbean as well as Central America and Britain. Although Mary learned her nursing skills from her mother, it was on these trips abroad that she complemented her knowledge of traditional medicine with European medical ideas.
In 1854, Seacole travelled to England again. It was on this journey that she approached the War Office, asking to be sent as an army nurse to the war in the Crimea. She was refused. Undaunted, she funded her own trip and set up the British Hotel near Balaclava to provide 'a mess-table and comfortable quarters for sick and convalescent officers'. She often visited the battlefield, sometimes under fire, to nurse the wounded. She became known as 'Mother Seacole', her reputation rivalling that of Florence Nightingale.
After the war she returned to England destitute and in ill health. Her plight was highlighted in July 1857 and a benefit festival was organised to raise money for her. Later that year, Seacole published her memoirs, 'The Wonderful Adventures of Mrs Seacole in Many Lands'. She died on 14th May, 1881.
The exhibition looks at the life of Mary Seacole and includes the only found portrait of her, kindly loaned by the National Portrait Gallery, painted by Albert Charles Challen in 1869.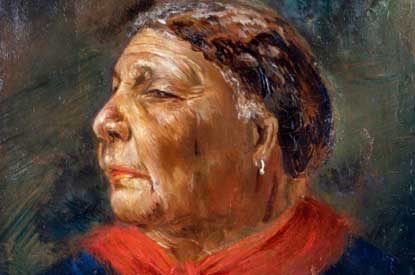 Exhibition Curator, Tara Munroe, said: "This will be a breath taking look at the life of one of the most determined women of history. Mary shows outstanding courage in everything she embarked on and had a humanitarian quality that embraced all making her the most iconic Black Britain of all time.
The Determination of Mary Seacole is at New Walk Museum and Art Gallery, Leicester is now closed. For further details, telephone 0116 225 4900 or visit www.leicester.gov.uk/seacole
Ends
Note to editors.
Please note photo opportunity.
For further details, please contact Tara Munroe, Exhibition Curator, on: 0116 2232061 tara.munroe@leicester.gov.uk