This booklet was updated and reprinted in 2006.
Marie Macey, an adopter, social scientist and senior lecturer at the University of Bradford, has written out of concern that so – called 'transracial adoption', which has been counterpoised with policies which insist on 'same race' placement in fostering and adoption, has become an ideological battlefield, rather than a topic that is discussed in relation to experience and to investigation of the evidence. Macey challenges the social services discourse around transracial adoption through a critical review of the theoretical, empirical and historical evidence.
Historically the career of the black child considered to be in need of alternative parenting has been conceived of as presenting a series of social dilemmas (Macey looks mainly at the careers of black children in care since the 1940's). Children born of relationships between white women and black servicemen during the second world war, for example, were seen as a barrier to their mothers social legitimacy and were variously exported or institutionalised.
During the next two decades, children considered to be black or mixed race were deemed 'hard to place' and tended to languish in institutional care. During the 1960s, it became easier to place black and mixed race children into (often white) foster and adoptive homes until the beginnings, in the early 1980s, of serious opposition to what became known as 'transracial adoption'. Macey documents and analyses these changes within the shifting social and political contexts of Britain and the United States.
The literature on transracial adoption is reviewed in Macey's booklet and some of the conceptual issues are opened out for discussion and analysis. These include the terminology of the debate (and of course its outworking in practice and policy) that employs concepts such as race, ethnicity and identity with varying degrees of confusion and under analysis.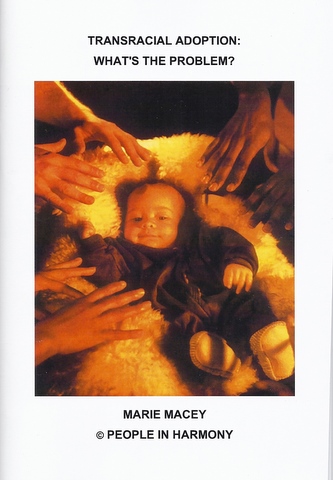 The booklet also contains a review of the research findings on transracial adoption, pointing out that this literature has had surprisingly little impact on policies surrounding the racialisation of fostering and adoption placements. Macey writes '…. the vast majority of an extremely large body of empirical research findings on transracial adoption are consistent. They conclude that transracial adoption is successful from the point of view of the adopted child and his/her family.' There are three useful summaries towards the end of the booklet that deal with 'both sides' in the transracial argument, the social context of transracial adoption and some of the wider social implications of the ban on transracial adoption.
A substantial list of references is also included which will be of value to anyone interested or working in the area of adoption or race and mixed race – or indeed with interest in the social history of the late twentieth century.
The booklet is published, sold and distributed by the charity People in Harmony, an organisation that supports families and individuals in interracial situations. Price £5.00 inc p&p
CONTACT US to order a copy
---
Title:
Transracial Adoption: What's The Problem?
Author(s):
Marie Macey
Price:
5.00 uk pounds inc p&p
ISBN:
978 1 85143 242 4
Published Date:
1998, updated 2006
Other:
Publisher:
People in Harmony Ltd
---