Understanding interracial relationships By Toyin Okitikpi
It is no longer a novelty to see people of different races and ethnicity holding hands and going about their daily lives. Between 1991 and 2001, the British population grew by 4.0 per cent, while the mixed population increased by 138 per cent; and in 2008 the Office of National Statistics reported more people involved in interracial relationships in Britain than in any other country in Europe. But despite the normality of seeing children of mixed parentage and couples – married or cohabiting – in interracial relationships, there remains strong interest in the nature of the relationships, in the motivations that drive them and in the experiences of the children that are born from such relationships. Sometimes this is articulated as concern and prejudice, both in society as a whole and in the helping professions.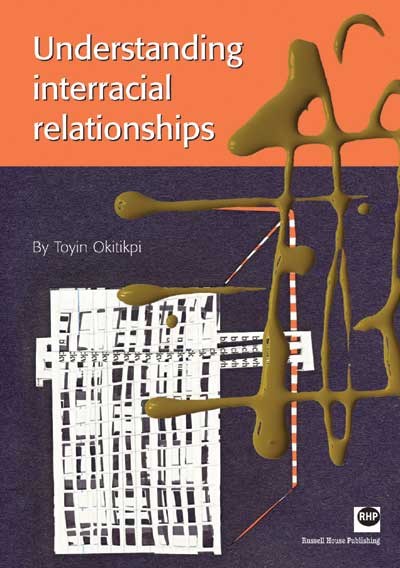 This book provides an analysis of the experiences of the people involved in such relationships and explores the implications for anyone who works with them. For counselors, social workers and others involved in work with families and children, it will also be illuminate learning and research in these areas.
Most publications to date that explore practice around interracial relationships focus on the children of mixed parentage. This book explores the experiences, dilemmas and complexities involved in forming intimate relationships across the racial divide. But, as workers' attitudes and approaches towards children of mixed parentage are generally guided by their views and assumptions about the nature of interracial relationships, this is an important book about working with children, as well as with couples. It:
provides detailed discussion of the history of the wider social and economic relationship between white and black people

discusses the way black and white relationships have evolved over the centuries and the underlying assumptions

offers an account of the dilemmas and complexities involved in interracial relationships
explores the nature of the explanations that have been advanced by others about people's motivation for getting involved in such relationships
explores the reactions, views, attitudes and concerns others have towards the relationship; and identifies how people in interracial relationships cope with the negative attitudes and approbation
identifies the implications for effective intervention by welfare professionals working with couples involved in interracial relationships.
Reflecting the fact that interracial relationships consisting of black men and white women constitute the highest proportion of interracial relationships in the UK, and that this type of relationship also appears to provoke the greatest disapprobation from many in society, this book is based on interviews with 20 black men and 20 white women who are or have been in interracial relationships. It focuses on developing a better understanding.
Paperback. 160 pages. ISBN: 9781905541539. Published July 2009. £18.95
Russell House Publishing Ltd (27 July 2009)
Click here for further information