CASTE IN HALF explores the effects of denial mainly relating to the offspring of mixed cultures.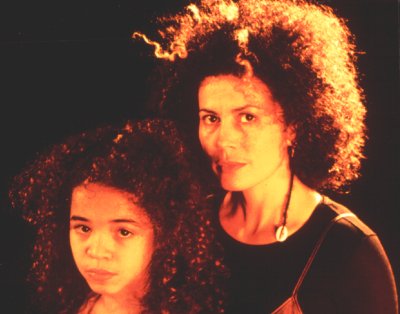 David opens his story on mix race and denial, Geraldine closes her story on mixed race and being abandoned. Lionel and June both talk about mix race and the colour concept, one visually and one symbolically. Sybil confirms that there is only one race, the human race, of which we are all part. This is their story.
---
Caste in Half was made by five women of different cultures.
Credits:
TINA ATTOH

–

WRITER, DIRECTOR, PRODUCER

BRIGIT VOLK
– CINEMATOGRAPHER
ONAYEMI OS
– SOUND AND EDITOR
GREY BURDICK
– PA/SCRIPT CONSULTANT
HENRITTE HARLAL
– ANIMATION ARTIST
---
I was born in Ottershaw (on Duffris Orchard caravan site), both my parents were Circus Artists. My mother of Dutch origin and my father of African origin. Spent my childhood/teens in Africa (Ghana) and part of my life in Holland/UK. After years of still photography I developed an interest in film, mainly documentary genre, with a keen interest in cultural issues and their diversities.
Tina Attoh
---
Tina's film was shown at the People in Harmony Centre during One World Week in October 1995.
CONTACT US  for loan copy of 'Caste in Half' DVD from People in Harmony