An increasing Mixed Ethnicity population in Bedford makes it an ideal host for this popular Mixed Race Matters Community Event.
People in Harmony, the UK Mixed Race Charity for mixed race people, families and relationships have organised a 2 day event 12th & 13th November 2021.
A meet-up on Friday evening at the Swan Hotel with refreshments and entertainment will be followed on Saturday with a range of workshops in the morning for children and young people, accompanied by parents and carers, at the Bunyan Meeting Rooms with light refreshments available. In the afternoon there's a fun fundraiser followed by speakers and discussions until 4:00pm then a visit to the CaRumBar for a relaxing chat and a free mocktail to finish off the day.
Friday 12th November, 6:30pm-12:00am
Evening Meet-up
Venue: The Swan Hotel, Embankment, Bedford
Live Band & DJ
Refreshments
Buy Event Tickets
CONTACT US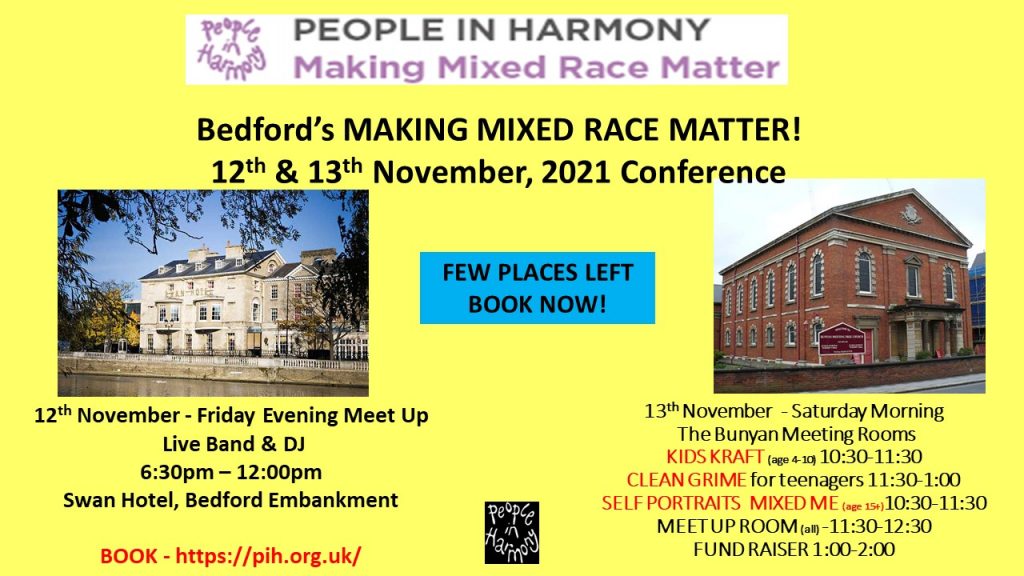 Saturday 13th November, 10:30am-5:45pm
Venue: The Bunyam Meeting Rooms
10:30-11:30am Kids Kraft (ages 4-10)
10:30-11:30am Self Portraits Mixed Me (all ages)
11:30- 1:00pm Clean Grime for teenagers
11.30-12.30pm Meet-up Tea & Chat (all)
01:00- 2:00pm Fund Fundraiser
02:30- 4:00pm Discussions & Narratives (adults)
04:30- 5:45pm CaRumBar – farewells with a free mocktail!
TICKET cost covers both days.