Raiding the Gene Pool
The Social Construction of Mixed Race
By Jill Olumide
Reviewed By Ishraga Lloyd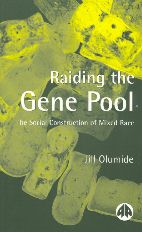 I can't review this book without telling you that I've been excited about it since it was a mere twinkle in Jill Olumide's eye. It's only fair to declare my interest right from the start. When I first met Jill it was because I was thirsty for knowledge and information about the 'mixed race ' experience. After I'd interviewed her, she showed me folders full of her original research and said she might write a book someday.
Well, Jill's not only an academic expert (the study was for her PhD) – she draws on her personal experience of life in a mixed race relationship and family as well. She's also been a People in Harmony Trustee and Committee member for many years. I only mention this because I like to know where an author on 'mixed race' is coming from. So, that's enough about her qualifications – on to the book.
Raiding the Gene Pool is an exploration of how the idea of mixed race has been created by society and for what purpose. It examines these issues from historical, political and social perspectives. Rather than seeing mixed race as a condition residing within the individual, Dr Olumide's refreshing approach is to view it as something the state has manufactured as a means of maintaining its structures of power. An individual identified, and treated, as mixed or mixing race is not innately mad, bad and dangerous to know. So how has this come to be the accepted 'wisdom'? The author presents an in-depth analysis of this as well as discussing the reasons why. She also relates her theoretical work to the current, lived experience of mixed race people. Jill does this through a study of a number of interviews she carried out amongst the mixed race population.
The book's starting point is that race is a myth and that mixed race is the "ideological enemy" of race. 'Mixed race' gives the lie to 'race'. Because of this, those who cross racial boundaries have been pathologised, demonised or even, at times, privileged by the state. Fundamental to this, is the author's description of the mixed race condition as "the patterns and commonality of experience among those who obstruct whatever purpose race is being put to at a particular time". I welcome the fact that she is careful to refer to mixed race as a social experience rather than an intrinsic nature.
The book has a poetic quality and there's a theme of magic and illusion running through it (chapters have titles such as The Hall of Mirrors and A Spell to make them Balance') which compliments and underlines the authors arguments as well as making it an elegant work. This is not a dry academic text, although there are sections that require careful reading.
I'm fascinated to see the links Jill draws between mixed race populations (and how they have been manipulated) through history and across the world. I'm intrigued by her analysis of previous academic research. And I can relate to the experiences of the people in her own empirical study. Some of the ideas may be challenging (there is no difference between mixed race children and their parents) – but that's what comes with 'new thought'. And for me, that's what makes it good – because then you have to think.
I think the knowledge and arguments in this book are a timely contribution to our understanding of ourselves, and of the world we live in. But you don't have to take my word for it – judge for yourself.
Published in People in Harmony Newsletter Issued 31 August 2002
Copies of Raiding the Gene Pool can be bought from us by post for £16.50 each (which includes £1.50 p&p) or £17.99 inc. p&p for organisations. Please contact us if you would like to purchase a copy.