PRESS RELEASE NOVEMBER 2011
SAME SAME
By Shireen Mula
Directed by Dan Barnard and Rachel Briscoe for fanSHEN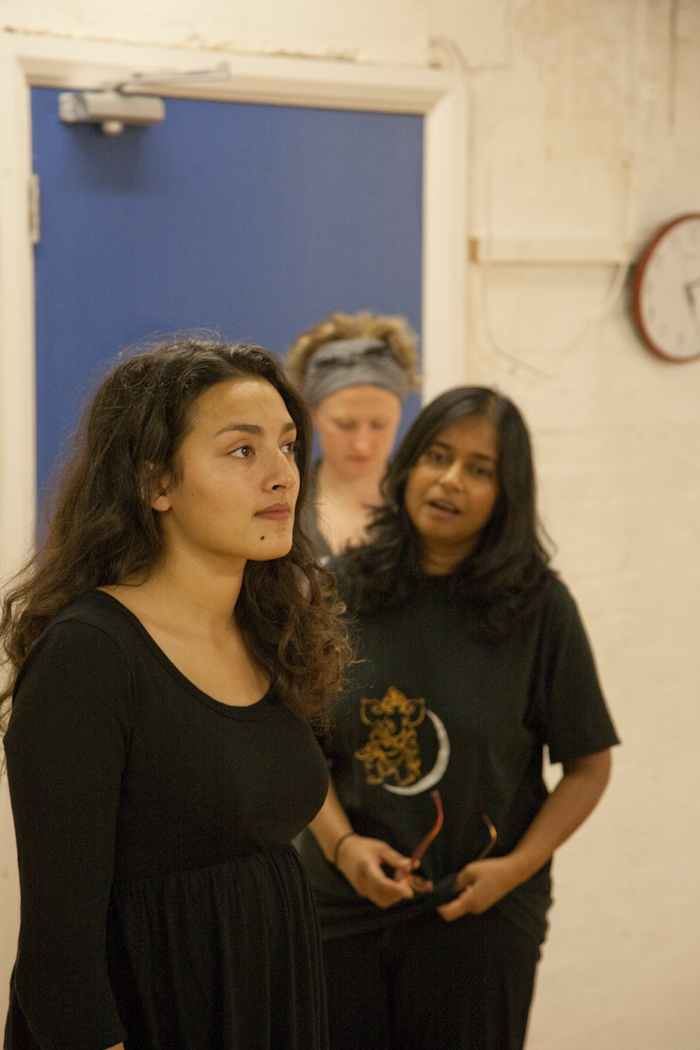 World premiere | Tues 22 Nov – Sat 10 Dec 2011 | 8pm |
Part of Ovalhouse's Lady-Led Season
Press night: Thursday 24th November @ 8pm
Mixed Race Britain brought to stage in unique new theatre production
An ambitious new play, which explores the hitherto invisible mixed race experience, opens this month as the culmination of Ovalhouse Theatre's autumn season. Same Same, a lyrical story of regret, longing and mixed-race identity, is set in a dark recess of contemporary London.
The play tells the story of a young woman on the eve of her 21st birthday. Adopted and mixed race, Asha is on a continuing journey to work out who she is. Somewhere else in the same city a British-Indian woman, Nid, is reflecting on the decision she made when she was 21 – a decision that would have an irrevocable effect on the lives of these two women.
It is written by young mixed race playwright Shireen Mula who was discovered through the Royal Court's "Unheard Voices" programme for young playwrights of muslim descent, and who has been described by playwright Mike Bartlett as "one of the most exciting writers around right now and a very important writer for the future".
Mula, who describes herself as a 'third culture kid', was born in Galway, Ireland to an Irish mother and Mauritian father, lived much of her childhood in Saudi Arabia and has spent most of her adult life in London.
Speaking about the play Mula commented:
"Generally the basis for our identity begins with our family – its history and its origin. If the elements of this are unknown and we know nothing of our mother or our motherland then the journey to create a strong self identity can be a hugely complex and difficult one. It is these complexities that are explored in Same Same."
The production is brought to the stage by theatre company fanSHEN who received the Young Angels Theatremakers award in 2010.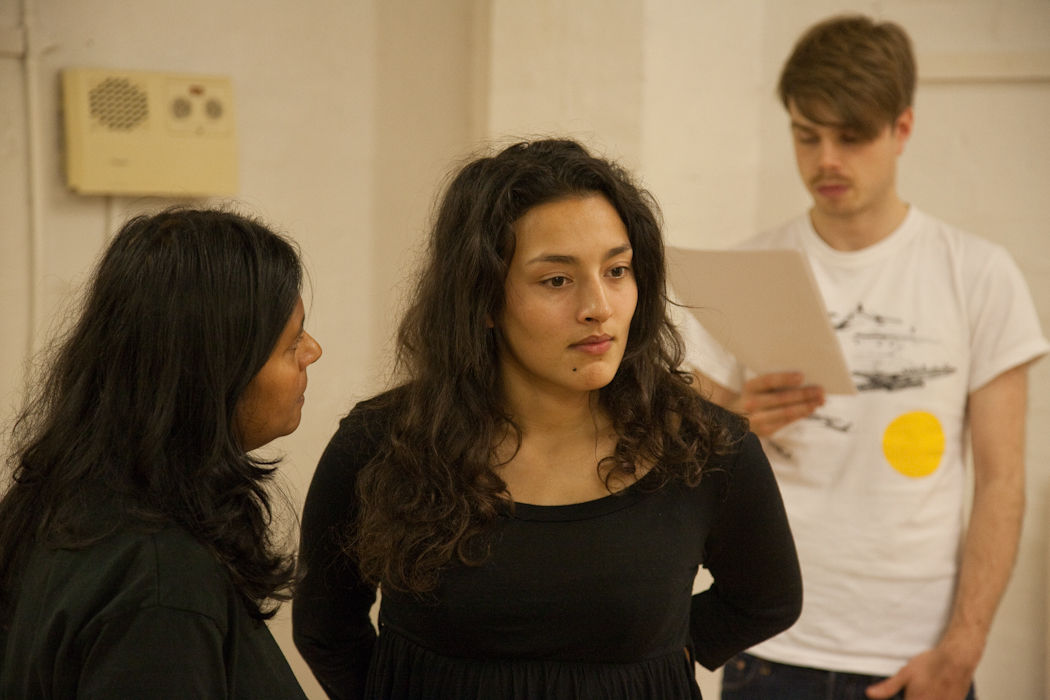 Starring actresses Bharti Patel and Zoe Nicole as the lead characters, with Joseph Radcliffe in a supporting role, Same Same is a lyrical exploration of what is, what was and what could have been through the minds of two women who are strangers, and yet whose past, present and future are inextricably entwined.
images by Conrad Blakemore
Same Same is one of four new theatre pieces by female lead artists at Ovalhouse during November and December. Lady-Led is the inaugural season programmed by the theatre's two new female directors Rebecca Atkinson-Lord and Rachel Briscoe.
Speaking of the relevance of staging this production now director Briscoe added:
"It is ten years since the "mixed race" category appeared on the census. It is now the fastest growing ethnic group in the UK. Almost 10 per cent of children in the UK live in a family which describes itself as mixed race and yet this demographic is still practically invisible on stage and screen where representations of diversity most often manifest in neat communities of black, white or Asian people; the reality is far more complex. While the BBC's ongoing Mixed Race Britainseason has started to redress this invisibility on screen, Same Same explodes these issues onstage: a live lyrical journey through the nuances of Asha's identity."
Same Samewill be performed as part of the Lady-Led Season at Ovalhouse from 22 November to 10 December. For more information and to book tickets visit www.ovalhouse.com or call the theatre box office on 020 7582 7680.
– ends –
For press tickets, further information and to arrange interviews please contact Laura Willis at thursday's child on 07912 158362 or email laura@thursdayschild.info
The Company:
Cast Bharti Patel | Zoe Nicole | Joseph Radcliffe
Creative team and crew Directed By Rachel Briscoe and Dan Barnard | Lighting Design by Michael Nabarro | Composition by Richard Hammarton
Listings info:
Venue:Upstairs at Ovalhouse Theatre – please note that, regrettably, the upstairs theatre is not currently accessible for wheelchair users.
Address:52-54 Kennington, Oval, London, SE11 5SW
Transport:Buses 3, 36, 59, 133, 155, 159, 185, 436 (Oval Station or Kennington Church bus-stop). Nearest Mainline Rail Vauxhall. Tube – Oval and Vauxhall
Dates and times:Tue 22 Nov – Sat 10 Dec @ 8:00pm. Previews 22 & 23 November. BSL 8 Dec. Audio-described 9 Dec.
Tickets: Full: £14.00 / Concession: £7.00 / Under 26, Equity, BECTU: £10.00 / Preview: £7.00
Box office: 020 7582 7680 or www.ovalhouse.com
Editors notes:
Lady-Led at Ovalhouse Theatre: 26 October – 10 December
New Directors of Theatre at Ovalhouse, Rebecca Atkinson-Lord and Rachel Briscoe, present Lady-Led, a season of unexpected experiences by excellent female theatre-makers. Lady-Led is an invitation to re-examine how gender functions as an element of artistic practice. Simply, it means that the lead artist on each project in the season is female – but the work is definitely not about 'women's issues'. The title Lady-Led itself implies a neatness, a conformity that the work explodes. This is a season by artists defining their own terms. It exists in dialogue with the idea of what a lady is, looks like, behaves like, makes work about. Gender is the context, the relevant constraint of the situation, the outside edges. We invite you to experience what is happening in the space between. Lady-Ledis fourproductions: Lagan by Stacey Gregg; Tomboy Blues by Mars Tarrab; TaniwhaThames by Stella Duffy and Shaky Isles; and Same Same by Shireen Mula. Three of these are world premieres.
fanSHEN tells stories of real people exploring big questions. We seek to challenge, confound and surprise.
Founded in 2005, fanSHEN makes work which combines psychologically nuanced performances with dynamic visual aesthetics. fanSHEN is led by creative directors Dan Barnard and Rachel Briscoe. For fanSHEN, Dan and Rachel have co-directed Fixer (Ovalhouse), Blowing (national tour), Moshing Lying Down (Shunt, PULSE, festivals tour) and Shooting Rats (Lilian Baylis site). Dan directed Meetings (Arcola) and Rachel directed Full Circle (Ovalhouse).
www.fanshen.org.uk