In this book twelve poets have been interviewed about their childhood and school experiences,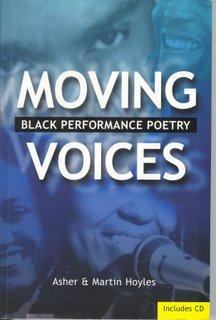 how they became poets and who influenced them, how they write and where they have performed, their favourite poets and poems, what they write about and their advice to budding poets.
The poets include those born in the Caribbean – James Berry, Valerie Bloom, Cuban Redd, Jean 'Binta' Breeze and John Lyons; and those born in England – Adisa, Patience Agbabi, Michael Groce, Cynthia Hamilton, Asher Hoyles, Levi Tafari and Benjamin Zephaniah.
What is black performance poetry? · What does it sound like?
How does it stem from African and Caribbean culture? · What is the oral tradition?
How is it related to the literary tradition?
A detailed introduction addresses these questions and many more. There is also a full bibliography of poetry and relevant references.
The accompanying free CD records the poets performing some of their favourite poems, and these poems are also printed in the book.
Copies of 'MOVING VOICES', including CD can be bought for £17.99 inc p&p.
CONTACT US to order copies
---
Title:
Moving Voices – Black Performance Poetry t
Author(s):
Asher & Martin Hoyles
Price:
17.99 uk pounds inc p&p
ISBN:
1870518640
Published Date:
October 2002
Other:
232pp p/b

---

Publisher:
Hansib Publishing (Caribbean) Ltd