'Kageha – Kalenjin Tribe – One Life – Two Stories'
This summer I went back to my country of birth after a gap of nineteen years. My daughters and husband were able to join me. We travelled back to East Africa. Returning to Kenya after so many years was a huge emotional undertaking for me.
My children were a lot younger nineteen years ago, and without a doubt, I imagined that there would have been a lot of changes since my last visit. I had not seen my birth father, Matayo or his 12 children for a long time. Life always moves on. His children, my half-brothers and sisters, themselves were now married with their own children. Arriving in Nairobi my first plan was to make the long trip up to Western Kenya to the city of Kisumu. I was lucky enough to be reunited with Crispus, a dear Kenyan Quaker friend from all those years ago, to help with translating.
Although my birth father and I exchanged letters, his replies were infrequent and then the communication stopped all together. I was not sure if he was still living in the same place. It was with much apprehension that I made the journey with faith and hope on my side. Firstly, the roads were much better in some areas than others. The sheer volume of traffic, combined with the fact that no one seemed to take any notice of the highway code meant that driving was quite a frightening experience. Heavily laden buses and matatus (minibuses) filled to capacity were overtaking on dangerous bends and hills – the inevitability of accidents seemed to be something other road users take for granted. Animals wandered on to the road, unattended, and regular police checks were all part of a day's drive. We drove through Naivasha and stayed a night in Gilgil before reaching Kisumu at the start of evening rush hour on market day! I was relieved when we finally found our accommodation overlooking beautiful Lake Victoria.
I was determined to find my father in the Nandi Hills whatever the outcome. On the day of the reunion my younger daughter Gemma suddenly fell ill, and we found ourselves at the Aga Khan Hospital at 1.00 am! She had an infection, which was thankfully treatable. Eight hours later, and having only had one hour's sleep we were making our way towards Kakamega and Kapsabet on treacherous dirt roads. We got lost several times but were always helped by local people. The dirt track roads became even worse, but at least we were getting closer to where we needed to be. We reached the district of Serem and Emugul. This is where the wild countryside started and our road ended.
We had to walk up and down hills to find my birth father, Matayo's home. His house is a small clay bricked building with a tin roof and no windows. He has no electricity or running water. His kitchen is a completely separate building made of mud bricks. He owns one cow, several chickens and a tiny tea plantation. In his house in pride of place was the bicycle I had bought him all those years ago. His needs have certainly changed, but fortunately our gifts were very much appreciated. My birth father was extremely warm and welcoming. He wore his Sunday best, and he kept smiling all the time. The women prepared and cooked traditional food – a feast on an open fire. It was a real celebration! My birth father gave several excited speeches in Kalenjin explaining my adoption from when he had been a very young man. This was translated into Swahili and English by the local pastor, and two relatives. Traditional songs were sung by the women, and everyone joined in with the dancing.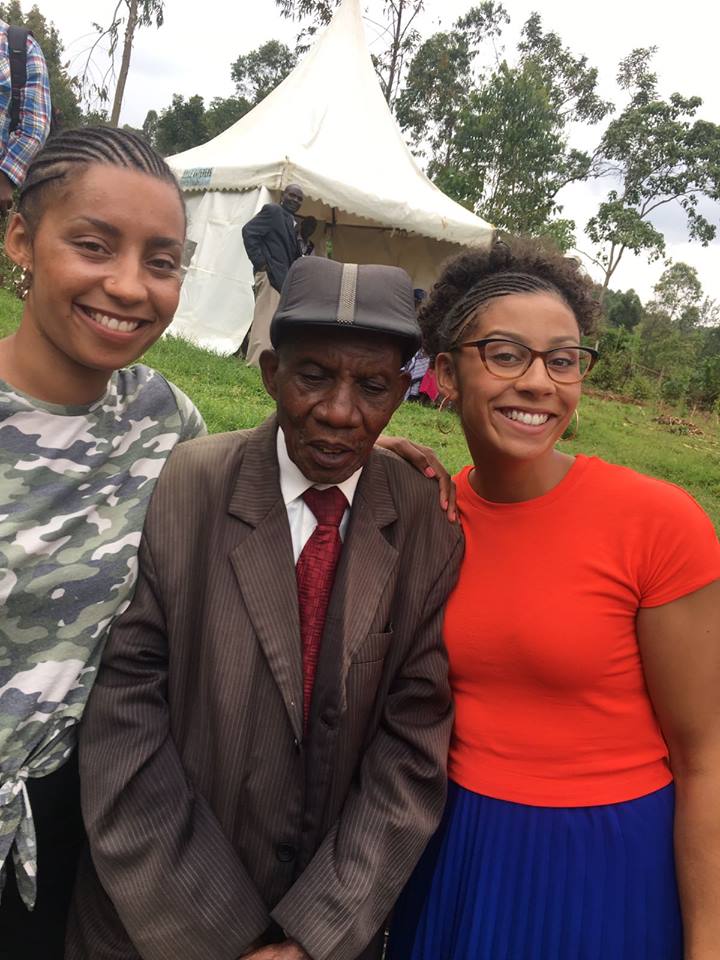 There was a lot of laughter and joy! I never dreamed as a teenager that I would ever travel back to Kenya and meet my birth family. I didn't imagine that my journey to find out about my culture and Kenyan roots would lead my eldest daughter, Natasha Marshall not only to write a successful play about her own story (Half Breed), but that her next play would be all about my story.I can't wait to see it and I will be sure to let People in Harmony know when the play about my trans-racial adoption comes out.
Kageha Marshall
Copyright 2018
Natasha Marshall Matayo Gemma Marshall