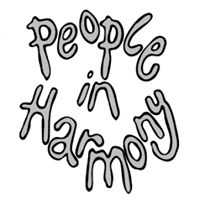 PEOPLE IN HARMONY
VOLUNTEER OPPORTUNITIES
People in Harmony is expanding its volunteer team and recruiting people to work with the current volunteers and trustees. Working with virtual office much of the work is carried out using Email, Skype and Phone calls, with attendance at London Events for some, occasional meetings for others and reasonable out of pocket expenses being agreed and paid. Check out these offers and get back to us with your interest or for more information.
Event Volunteers
Volunteers are needed to work with us for our annual events held in the autumn for members and non-members, to ensure the event is a success, enjoyable and runs smoothly.
Download Event Volunteer
Could you

assist in the preparation and publishing of a newsletter?

Our newsletter is published in full colour twice a year, typically in spring and autumn. The newsletter is posted to members, contributors and interested parties in the UK. Bulletins are occasionally emailed to members.
Download Newsletter Volunteer
IT Support Officer Volunteer
Experienced volunteer needed, to join and support our team to ensure our IT systems are up to date and working efficiently. This is a home based opportunity and will suit someone who likes to work varied and flexible hours and cover a range of responsibilities.
Download IT Support Volunteer
Communications Volunteers
Communications Skills will support the work that People in Harmony does, raise awareness of the organisation and support our members. You can expect the role to be varied and flexible and dependant on your interests and experiences.
Download Communications Volunteers
Web Developer Volunteers needed for a new wordpress website!
Web development and maintenance experience needed to service and launch our brand new web
Have you the time and expertise to update, service and launch a brand new wordpress website with us?
CONTACT US HERE for further information and/or send a letter of interest with your CV.
Download Volunteer Application Form
MIXED RACE MATTERS posts for the web
Research suitable photos, articles, personal stories, reports, reviews, resources and links

Contact us with your stories and experiences for the newsletter, web, social media
We would also be very interested to hear from long time Harmony members with photos and stories from past years events and initiatives.
CONTACT US HERE for further information.
Download our PRIVACY NOTICE
Events Organiser / Fundraiser
Expenses paid and contacts provided, would you like to organise and develop existing events and carry out fund-raising activities? Can you spare a few hours to obtain funding application forms and fill them in? It is vital to our organisation's development and expansion. Do you have previous experience? If needed training can be provided via Council for Voluntary Service. This could be a first step on the road to a new career.
Download job/skills/summary
Download Volunteer Application Form
New Trustees
There are vacancies on the board of trustees for people willing to spend a few hours a week working from home, and participate in the 5/6 committee meetings held every year in central London on Saturdays. Reasonable travel and out of pocket expenses are paid.
Download Trustee Information Pack
Finance Officer
A Finance Officer will serve on the board of trustees and will maintain an overview of PIH's financial affairs to ensure it's viability and be responsible for keeping proper financial records and procedures
Download Finance Officer