Sponsored by the National Mental Health Development Unit
People in Harmony offered a rare opportunity to hear from a range of experts about the impact of mental health on young people and families of mixed race. The keynote speakers were Professor Suman Fernando, London Metropolitan University, formerly a consultant psychiatrist in the NHS and now a highly respected international academic and advisor on mental health and race; and Melba Wilson, Director of Equalities at the National Mental Health Development Unit.
The agenda explored:
the concept of identity and its inter-relationship with racism for mixed race people
how mixed race fits into the Department of Health's Delivering Race Equality agenda
a new study providing evidence of risk (of mental health problems) and resilience among young people of mixed race
an understanding of the particular stresses on mixed race relationships and the impact of this on family life
prevention approaches through strengthening the child and family
early interventions through counselling in school and family therapy
how mixed race service users fare in acute mental health services
Other speakers included: Dinah Morley (former Director of YoungMinds), Bradley Lincoln (Multiple Inheritance Project Manchester), Sharon Evans, Relationship Counsellor, Mel Gabbi (Slough Children's Trust), Yvonne Ayo (Tavistock Centre) and Dr David Ndegwa, Forensic Psychiatrist and Clinical Director, South London & Maudsley NHS Trust.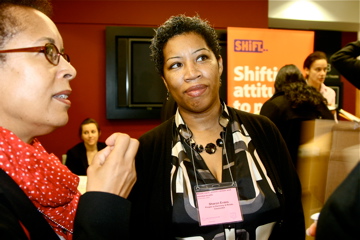 Yvonne Ayo and Sharon Evans

–

photo by Tenee Attoh
For further Information