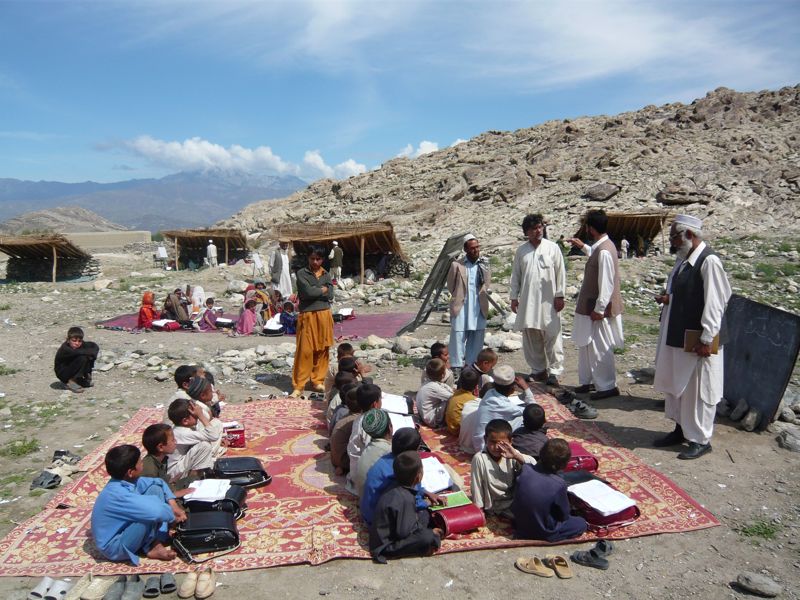 My name is Ramon Mohamed son of Amir Mohamed and Mary Watts. My father, a practicing Muslim and Pushtoon from the North West Frontier Province of Pakistan (NWFP), arrived in Sheffield in the 1950's as part of the first wave of colonial immigrants invited by the British Government to work in the steel industry. My mother, a practicing Christian was born in Sheffield, worked for most of her life in Bassetts sweet factory.
Together they had eight children, I was their fourth son and the only child given a name from my father's family, my paternal grandfather, Ramon, meaning 'the Merciful and Compassionate one', one of the ninety-nine names given to Allah. Our parents followed the religious orthodoxies of both Christianity and Baptism, and the Islamic custom of whispering the Adhaan into the newborn babies right ear, to establish our faiths.
During my early childhood my father would send us to Industry Road Mosque located in a house to learn the Qur'an, my mother would encourage us to go to Sunday school at the Baptist Church on Eleanor Street. As a young child I knew I was different, one parent had brown skin the other white skin. This difference was exacerbated by the fact the there were no other Pakistani families living on our road and definitely no dual-heritage children to play with. At night in bed my confusion would keep me awake, tossing and turning, feeling uncomfortable in my own skin.
In the 1960's when I began my primary education at Phillimore School, Darnall we were the only family who had a Pakistani dad and a white English mum my unique school experience continued through to my Secondary education in the 1970's at Park House School, Tinsley. In the playground I had good mates with whom I would play football aspiring to be just like Tony Curry, Sheffield United's prolific mid-fielder. However, when things got nasty, and fights broke out in the playground, racial stereotypes were hurled at me in the form of Afro-Caribbean stereotypes – big lips, flat nose and nigger. By the mid-seventies Asian racial abuse emerged and I could now be insulted more specifically – curry breath, untouchable and Paki.
At the beginning of the 70's more Pakistani's came to Sheffield working in key industries and creating communities that were focused around Industry Road Mosque. In 1976 I left school with no qualifications and spent eight years working on building sites where again I came across racial abuse and also racist language used in everyday speech. As the Pakistani community grew, not only did I experience racial abuse from the white community but also from sections of the Pakistani community who refused to understand and accept my dual heritage. Both Pakistanis' and whites would call me 'half cast', making me feel untouchable and alienated, and an outcast from both communities. During this period all my siblings were changing their last name from 'Mohamed' to 'Watts' my mother's maiden name. The very fact that they were constantly labeled by the name made employment and forming relationships difficult. I am the only 'Mohamed' in my family.
The 1980's were a period of massive social and economic change, privatization of utilities and trains, anti-poll tax demonstrations the decline of heavy industry, rising unemployment. 1984 and the miner's strike was a significant turning point in my life. I lost my job and decided to give education a second chance. I attended Shirecliffe College and took four GCSE's as well as an access qualification aimed at mature students. I found the two years I attended college, away from the familiarity of working, for eight years, on the building site challenging. During my time working I was surrounded by 'industrial language' racist conversation was part of everyday discourse. Inside I knew it wasn't right, but accepted that on the outside this was the way people behaved, I was their mate 'the good Paki', able to survive in yet another confusing environment. At college I wasn't hearing racist language everyday and I was beginning to feel more comfortable in my own skin. Yet even here I did not see one dual heritage, black or Asian student attending college, I still felt isolated.
I had arrived at a point in my life when I needed to ask my father questions about his journey from Pakistan to England, how his life differed from a rural village to an industrial urban city? What were his experiences and what motivated him to build a new life for himself away from his Asian roots and create a new family in Sheffield? It was at this time that I began to intellectualize my racial predicament. I became interested in the academic study of politics and sociology. In 1985 I accepted a place at the University of Hull where I studied for a joint degree in Politics and Sociology.Prior to leaving Sheffield to go to Hull I heard that my father had died suddenly of a heart attack in Pakistan. Just at the point at which I had begun to need answers to questions about him, and of my background and Pakistani roots he had died thousands of miles away leaving so many of those questions unanswered.
On my journey to Hull my main concerns and apprehension were related to my working class background, I wondered how I would fit in in a predominantly middle class environment. However, my first day at University was a baptism of fire. Arriving at my shared university house, a fellow housemate and student met me at the door and told me my room faced Mecca. I was completely thrown, I thought I would be marginalized because of my working class background, however I was immediately transported back to the racial assumptions of the building site. On entering the North facing room my humiliation was further compounded. Even before they got to know me they had made assumptions based on my name and in addition their geographical knowledge was abysmal. The three years I spent at University I learnt about Asian and Middle Eastern Politics and the sociology of race, discovering and understanding the historical and global impact of these subjects strengthened my dual identity and gave me a greater sense of my place in the world. Academia had given me a new language distinct from the language of the building site. On the building site it was difficult for me to articulate the anger that I felt from the racial taunts and abuse, the anger hadn't diminished, but I could now form my own arguments and articulate my opinions in a language that was more knowledgeable and powerful.
Now it was time for me to visit my father's birthplace. In 1989 I went to Pakistan for the first time in my life. It was the middle of summer and the heat was unbearable. In the heavily populated and polluted city Karachi there were tanks roaming the streets. The heavy military presence was due to the recent assassination of General Zia, President of Pakistan. Whilst in Karachi I visited the tomb of Muhammed Ali Jinnah, founder of Pakistan. I took the slow train to the Punjab and went to Lahore and spent time exploring the beautiful Badshahi Mosque as well as the Shalimar Gardens and then onto the Swat Valley describe in travel books as the Switzerland of Pakistan. I met so many wonderful and kind people on my journey to find my fathers village. My final crossing into the village, surrounded by water, was on a rickety leaking wooden boat.
I spent four weeks with my family in Toru, Mardan situated in the North Western Frontier Province of Pakistan. Struggling with the heat, diet, language and the constant stream of family visitors and trips to meet extended family members I became conscious of a whole world that belonged to me that I had had no previous knowledge of. My academic studies together with the personal journey I made to Pakistan gave me an insight into my head and heart that I could rationalize.
On my return to England I chose to study for a Postgraduate Certificate in Education at Bradford and Ilkley Community College. Bradford continued my Asian experience. An exciting multi-cultural city that felt familiar to me. There were, however, no other Asian, black or dual heritage students on the course. As a latecomer to Education I was passionate about continuing my learning experience, this led me to teaching as my chosen career. My own experience of school drew me to work in inner-city multi-cultural schools where working class black, Asian and dual-heritage children were struggling, in the same way I had, to make sense of their role in the world. These struggles are multi-faceted but at the heart of these conflicts lay the unifying barrier of difference, the colour of our skin.
My life in Bradford had helped me to identify more with my Pakistani identity. In the summer of 1990 I moved to London a dynamic and diverse city where I would feel comfortable. I enjoyed the art scene in London and made frequent visits to galleries, theatres and jazz clubs. I heard a multitude of languages spoken on the street and tasted food from all over the World. I attended talks given by high profile Asian men, Hanif Kureshi, Salman Rushdie and Tariq Ali, who described their own personal journeys. During these discussions I was able to assimilate a variety of different perspectives and views about race and identity.
The London school's where I worked embraced the diversity of the city. Children, parents and staff would openly engage in discussions and debates about race. Children were encouraged to challenge prejudice, promoting respect and understanding of an individuals life experiences. These ongoing debates seemed as natural as breathing, this openness supported the curriculum in all areas but especially when there were projects and subjects discussed during Black History month, highlighting an understanding of Black and Asian histories that had previously been ignored and bringing to light forgotten heroes. School provided me with a space to continue to explore my racial heritage and to learn and teach about other's experiences. However, away from the comfort of an enlightened school I would find myself on the terraces watching football, 'The Beautiful Game', surrounded by 'fans' screaming racial abuse, they ignored my presence, because I wasn't a 'black bastard' I was the 'good Paki'!
During the early 1990's I became increasingly involved in the wider football debate. At this time I was writing of my experiences on the terraces and the racism I saw and experienced. I was invited to attend meetings of the Football Taskforce a government organization chaired by David Mellor at the Houses of Commons. These discussions brought about Kick Racism out of Football a government-funded organization that actively sort, through education, to eradicate racism from the terraces. Locally formed organizations mirrored the aims of Kick Racism out of Football; in Sheffield this group was called Football Unites Racism Divides (FURD). One of FURD's aims was to raise the profile of black footballers, working with an academic (Phil Vasilli), who was researching a book about black professional footballers, and with the help of family members they recovered the history of Arthur Wharton (1865-1930), Britain's first black professional footballer. Finding Arthur Wharton, was for me, a seminal moment in the teaching of black history, he encapsulated all that was missing from the teaching of sporting role models and their history.
In 1995 a young ambitious architecture student, Stephen Lawrence, was brutally murdered by white racists in South London. The Macpherson report on the death of Stephen stated that the Metropolitan Police Force had seriously hampered the investigation into his murder and the infamous phrase 'institutional racism' was endemic within the police force. Concern was raised that 'institutional racism' existed in other public organisations. Racism was still knocking on the door. I was hearing racism and racist chanting on the football terraces. At times I felt uncomfortable especially when visiting particular football grounds.
My love of sport influenced all areas of my teaching, creating a vehicle with which to engage children; team results led to understanding numbers, finding out where different teams came from secured their geographical knowledge. My own reading skills were greatly improved when in my early twenties I discovered books about my sporting heroes, Sebastian Coe along with his dad Peter wrote a book called Running for Fitness this was the first book I had ever read. Local team sports during the late 70's and early 80's reflected the racism in professional games, the last thing I needed after a day working on the building sites was more racial abuse. Marathon running created a space for me away from the building site where I had the freedom and isolation to relax my mind, I set my own pace and goals.
Teaching in London, in an environment where shared values created a space where I felt comfortable, enabling me for the first time to truly develop my potential. I introduced after school clubs; teaching and developing children's skills in football, cricket, netball, basketball and tag rugby, along with other interested local schools we set up Friendly Leagues, competitive sports not only inspired children to focus and work hard in training sessions they also improved co-operative and communication skill. I also introduced specific Asian sports and games such as Kabbadi and Carrom Board. The local secondary school had a fully equipped gymnasium and as part of the Y6's transition to Y7 they would visit the school once a week after school working closely with secondary school staff and pupils. Our primary school was desperately in need of good sporting facilities and at this time I worked closely with the school's governing body, Sport England and the Local Authority to build a community sports hall, it was the only purpose built sports hall in the area at the time.
At the turn of the Millennium a new world order was about to burst upon all of us after the destruction of the Twin Towers in America, bombings in London and Madrid and the subsequent rise of Islamic fundamentalism. I felt uncomfortable. In the media my surname 'Mohamed' became associated with 'terrorism'. I did not belong to any particular group in which I could confide my feelings. I began to think irrationally. I was neither Christian nor Muslim I was neither Black or White I had an 'English' and 'Pakistani' family. I felt emotionally threatened. Old feelings of insecurity and isolation came flooding back.
'Which side are you supporting' I was asked on more than one occasion?
I was reminded again that somehow I was different and did not belong.
School continued to be a haven for me. I could retreat inside the building and still not be judged or asked which group I support. I took part in staffroom discussions on the 'terror threats' and I acted on my political position by joining 'Stop the War Coalition' demonstrations. In 2002 I became a Schools Sports Co-ordinator for Islington my role was to implement and develop the programmes, I had established at my school, across the Authority. In addition I obtained funding for interested parents to gain qualifications in coaching. A variety of sporting organization had set up programmes where people could learn coaching skills, they would then bring these skills into schools and teach the children. The Department for Education and School had part funded along with local authorities and Arsenal Football Club, an Education Programme at Arsenal Football Club to engage children who were struggling academically and/or had behavioural difficulties to develop their IT and Literacy Skills. My links with the Taskforce and my role as Sports Co-ordinator gave me the opportunity to make these facilities available to schools in Islington. Throughout the country there are more clubs nowadays using the experience of Arsenal Football Club to devise their own model to engage and encourage children's learning.
In 2006 the West invaded Afghanistan, this was the same year I returned to my home city Sheffield. Sheffield was promoting itself as a Multi-cultural City and I wanted to know if the city of steel had, over the past twenty years, cast a new identity for itself. Walking around the city centre I saw black, brown and white couples, husbands, wives, boyfriends, girlfriends strolling along with dual heritage children. Sitting in the Millennium Gardens I would watch families from the four corners of the globe picnicking, their children playing together and splashing in the fountains. Remembering how isolated and confused I felt as a child I felt pangs of jealousy.
Working as a supply teacher in South Yorkshire I have realized that this diverse multi-cultural city is less harmonious than at first experienced. I have been called a 'terrorist', 'Paki' and on many occasions I have heard the word 'half-caste' spoken in staffrooms, and have been called 'half-caste' by both white and Asian parents as well as by students. This lack of racial awareness was shocking I had never been called 'half caste' in London. Before I began teaching in Islington, London education authorities had been proactively anti-racist, as part of our employment contract, once a year we would attended Race Equality courses for teaching and for non-teaching staff. The comfort I felt working in London schools was due to the common anti-racist language we shared, plus the curriculum fostered an explicit multi-cultural approach. An inclusive ethos permeated the school environment; multilingual, multi-faith displays reflected this approach in a meaningful way.
In Sheffield I had come full circle. The city centre, a melting pot of multiculturalism, failed to communicate that diversity and energy into neighbourhoods and schools. I visited areas of Sheffield where 'white-flight' is evident. Communities that looked as if they were becoming more multicultural in the 1980's have now sunk into mono-cultural ghettos creating their own visible form of apartheid.Disillusioned and saddened by my experiences of racism in Sheffield schools and the constant negativity and lack of engagement of what was happening in Pakistan and Afghanistan I felt a huge need to connect to my Asian heritage. Daily news reports showed how the conflict in Afghanistan was spreading into neighbouring Pakistan. On my first trip to Pakistan I was told that my father's parents had initially lived in Afghanistan before crossing the tribal lands into NWFP. I wanted to explore their journey from Afghanistan and into Pakistan.
In Sheffield I became involved with a group called 'Friends of Azzad Kashmir' who wanted to build partnerships with the Kashmiri community in Sheffield and raise educational awareness as well as funds to help build schools in the Kotli district of Azzad Kashmir. At the same time I had been emailing Non-Governmental Organisations (NGOs) based in Afghanistan asking them if I could volunteer my services and help support schools/education in Afghanistan. I wrote to my Pakistani family of my wishes to make another journey to my ancestral village.
In April 2009 I arrived at Islamabad Airport.
The Welfare Association for the Development of Afghanistan (WADAN) arranged for me to visit more than 30 Community Based Schools in the rural district of Nangraha Province, Jalalabad. Mohammed Afzal and Nassema Khan (Educational Co-ordinators), and Ghulam Mohammed Safi (Interpreter) accompanied me.
One of the first schools we visited was Taran Community Based School, the school was situated outside on barren, dusty earth below a rocky hillside. I saw six 'classrooms' and groups of children sat on thin straw matting. Four of the classrooms consisted of recycled wood, a straw roof and one small-sided wall made from stones taken from the hillside. Two other classes were located outside in the open. Four classes were all male and the other two classes were all female. Each class had approximately 40 students and one male dedicated teacher. I thought I had mentally prepared myself for the trip to Afghanistan but to be actually standing on Afghan soil looking at schools and children I was shocked by the poverty. The children at Taran sat on the floor in rows. Most children at this school had textbooks and a satchel provided by WADAN. However children did not have paper or pens and pencils. Some children had small chalkboards but no chalk. The children were poorly dressed and had tired faces. I was told that all of the children would have either been working at home or working in the fields before they came to school. The cattle and goats grazing nearby belonged to the children. The school day began at 8:00 am and lasted three hours. After school the children and their livestock would go back to working in the fields.
My past history and experiences had made me very aware of the problems facing the tribal relationships in the North West Frontier Province. In the safety of my Sheffield home I would watch news reports and read articles directly relating to my Pushtoon community and became increasingly aware of the emergence of 'Islamphobia' in the United Kingdom and newly emerging Far Right groups such as the English Defense League. This particular global conflict was directly affecting how people responded to me, at this point in my own personal journey I choose to confront this issue head on. My experiences in Afghanistan marked a new beginning for me, as with all international news reporting the issues surrounding the conflict in Afghanistan, the actual every day experiences of people in Afghanistan were far more complex than could be communicated through media reports.
Rebuilding Afghanistan, after not just years of modern conflict but conflicts going back to the nineteenth century, can only be successful if we understand the dynamics of local tribal communities because there is an historical distrust of outside intervention. When I met with community elders they told me of their passion in establishing schools in their rural community areas. They were desperate for change wanting, as we all want, their children to have the education and opportunities that they hadn't had.
A 21st century Afghanistan will only be successful if the building blocks to its emergence as a peaceful nation are built upon a strong educational foundation. Education removes barriers, allowing people to have a greater understanding of their differences whilst at the same time highlighting, nurturing and developing our shared humanity. Children share universal dreams, whether those are dreams of playing professional football, being a doctor or a scientist, lawyers or presidents.
The children I met in Afghanistan were all keen to learn; despite limited or no resources they understood the importance of education. A young girl called Iqra ('Iqra' is the first Arabic word written in the Qu'ran, it means 'Read') stood up and demanded that I should help build a school with a science laboratory. She wanted to be a scientist when she grew up and did not to want spends her life working in fields. I left Afghanistan with Iqra's voice echoing in my head and a desire to help build schools, build people and build a nation.
by Ramon Mohamed 2009